American universities are globally renowned for their high education standards, extraordinary discipline, and persuasive logo designs. Do universities also need branding? Well, yes, they do. Creative American university logos reflect their commitment to delivering quality, enhancing their image, and attracting their prospects to apply. Moreover, they are something more than that, as they are a source of inspiration for graphic designers and businesses.
We present a list of the most fascinating and famous university logos and discuss their design for designing a logo of education or associated brand. Some of them originated decades back but still hold their value in their audiences' perception. It is important to analyze their elements and features for insights into designing a logo. Let's discuss them in detail in the subsequent section.
10 American University Logos
Creative American university logos are among the most recognizable ones in the US. No matter what state it belongs to, a university attracts students from around the world for great learning and opportunities. The logo generates energy from the decorum, discipline, and quality of all academic areas. Following are the 10 American university logos for design inspiration in 2023.
The most recognizable logo Harvard University emblem, shines as a top logo of education quality and prestige in the academia. The Harvard University logo has a unique design that resembles a shield with three open books making up the word Veritas (Truth or Verity in Latin). The name of the institution accompanies the brand symbol in a clean serif font and capital letters. The name Harvard is written in a bigger size above, while the word below employs a smaller size. In addition to the logo Harvard University has the strongest brand identity worldwide.

2.  The George Washington University Logo
Another high-reputation title among famous universities and colleges logos and names is The George Washington University Logo. With a minimalist logo wordmark, it is usually difficult to reflect a brand and its value. The inspiring logo is not only a rich logotype but also represents the largest higher education institute in the District of Columbia (the former name for Washington, DC). The logo uses a Sans-serif typeface with a dark blue color, referencing the US Capital below.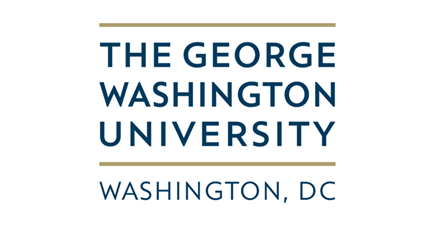 3.  Berkeley University of California Logo
The wordmark for the Berkeley University of California logo is another minimalistic logotype famous worldwide. The institute offers various programs through its 14 departments and has different schools and colleges logos and names. Its Serif typeface for Berkeley and a capital B with lowercase letters depict a cherishing journey for learners. The below text uses an uppercase Sans-serif font with a small size, contrasting the logo for an amusing look in dark blue color.

4.  The University of California, Los Angeles – UCLA Logo
The University of California, Los Angeles, also known as UCLA conducts more than 300 programs. The UCLA logo is a wordmark with minimal design, displaying the initials in a bold and italic capital case. The font uses a white color with a light blue rectangular background. It uses the Sans-serif typeface and has a unique and noticeable appearance when displayed among its competitors.

5.  The University of Michigan Logo
The University of Michigan logo is a monogram with one distinctive design feature. Its yellow M in bold capital case draws viewers' attention in a single sight. Besides the M, the name appears on the right side with all capital letters in dark blue. The Michigan word is larger than the above text, appearing bolder and darker. Nineteen colleges operate under the institute with the best college logos that are worth mentioning but beyond the scope of this discussion.

The Yale University logo is a symbol of quality higher education in the US. It is one of the top three oldest academies, with fourteen residential colleges for its students. The logo of Yale College is also among the best college logos and is far different from this logo. The university's logo, however, is a simple logotype with a serif font, dark blue color, and a friendly layout. The Y is capital, followed by small case letters, representing the prestige of the elegant university.

7.  The University of South Carolina Logo
The University of South Carolina logo is a unique combination logo unifying a design image with a wordmark. The logo is unique in its color and design, with a different pattern for its name. Most of the institutes mention names in a rectangular format. However, it uses a left-aligned text with capital letters in small size above and regular words with capital initials for South Carolina. Its design consists of an image in white stripes on a garnet color (same as text color) square shape. The dark background makes it more prominent, depicting a tree in the middle of a fenced gate.

Another wordmark makes up the Duke University logo with a dark blue Serif typeface. The small case letters follow a capital initial in a 4 to 5 times larger size than the below-mentioned university word with all capitals. The logo depicts the same educational theme but with a unique weight to its name. However, the prestige, discipline, and education it represents are outstanding and famous. The institute was formerly known as "Brown School" in North Carolina and the US.

Stanford University is another combination logo that unifies a text with an image and design to give a unique reflection. The institute's name appears in cardinal red with Stanford above and University below, center aligned. Both words have capital initials, with the upper word slightly larger than the lower one. Its design uses the same cardinal color, a large S, in bold and thick geometry with a white inner outline close to its outline. The character also depicts a green tree image in the center of a dark background, reflecting growth, development, and solid foundations.

If you already feel like academia has an obsession with dark blue colors, you must see the Boston University logo. The logo uses a sharp red rectangular background with an inward white outline and justified white text. The words use a Serif typeface where Boston is written slightly bigger than a relatively smaller size word university written below. Red represents love, passion, and courage and is perfect for attracting audiences' attention to a logo design.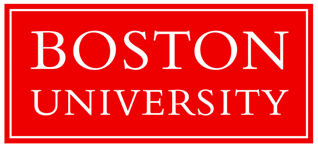 Conclusion
You might think you have seen some emblems for our listed universities. You are right in the sense that those are known as official seals and not logos. However, some educational institutions have variations of colors and formats, such as horizontal, centered, or unit logos. Adaptable logos development is challenging and sometimes needs multiple design variations.
The list of 10 creative American university logos provides insights, inspiration, and references to what persuades their audience to travel many miles to engage with them. Some might even come from distant countries for a higher-quality learning environment. A logo design company enriches your logo, influencing your target market to interact through persuasive logos development.
Please visit Our Design Blog