In today's digitally advanced world, everyone uses the internet for purchases, knowledge, and interactions. The tremendous opportunities help businesses win brand recognition and attain goals. If you own a business, having a website as an online front is mandatory. Once you finish the website development, the next step is to promote your business to boost brand awareness.
This article reviews how a branding agency can turn around your visuals and identity to bring growth. We will also cover how digital marketing helps to grow a business. Effective promotions require digital marketing, but branding services can leverage it far better than mainstream marketers. Let's dive in to explore the horizons of digital promotion via a top branding company.
What is Digital Marketing?
Digital marketing is the process of promoting and strengthening your business with the help of suitable digital channels. These include social media, websites, blogs, digital ads, infographics, and video-sharing platforms. Employing appropriate marketing strategies helps to reinforce its branding and improve its trustworthiness.
Why are Digital Marketing Services Important?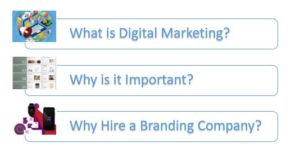 Digital Marketing significantly impacts a business in the modernized world. If you have a website that wants to boost your brand or company, these Digital Marketing Services are beneficial. Any online or offline business can benefit from online marketing by hiring a digital branding company. Most startups and entrepreneurs prefer Digital marketing to reach the milestones of expansion.
There are several ways to grow a business through digital branding and marketing. It understands the brand objectives and aligns them with the expectations of your target audience via branding and promotion strategies. A digital branding company offers a consistent plan and aids in its execution to ensure you reap the maximum returns. Some of the digital avenues are as follows.
How Can a Digital Branding Company Help?
There are various types of techniques that a digital branding company with marketing expertise can use to elevate your business. The most common methods are as follows.
Search Engine Optimization (SEO)
Search Engine Optimization is the technique to boost the number of visitors to your website. Also, it helps to reach the highest rankings for your target keywords through keyword research. With the help of SEO, you can quickly expand your prospects and transform them into leads and customers. SEO practices include managing your website performance, traffic, user intent and retention, functionality, and content.
It employs On-page SEO, Off-page SEO, keyword planning, and other design and development techniques. Schema markup makes your website trustworthy, while engaging content complies with users' search intent. It uses rich snippets, featured snippets, site links, knowledge graphs, and tags. All these things help you to fabricate your brand website with more credibility. A branding firm understands the intent and needs behind specific keywords and adheres to them.
Search Engine Marketing (SEM)
Paid ads and Search Engine Marketing are easier ways to promote a brand that brings traffic to the website. It was earlier considered a solo term for SEO and PPC (Paid Per Click). In SERP (Search Engine Results Page), some results are marked as sponsored, which are paid ads. If you are a startup and want to get more leads and traffic instantly, begin with search engine marketing.
The process of SEM also covers an advertisement for your website that appears on other pages. Google ads assist you with better conversions, followed by Bing and other search engines. Google Adwords enables you to promote your ads on other Google platforms such as Youtube, Playstore, and many others. You can set and run different campaigns to place your ads in the right places. Branding experts study the audience segments for queries to target prospects by alluring visuals.
Content Marketing
Content is the primary factor that plays a vital role in Digital Marketing. If the content is helpful, meaningful, and has engaging visuals, the user can easily take action or contact you. Valuable content builds bonding relationships with the users. If the readers like your content, they revisit the website, and it becomes easier to prompt them to make a transaction. Reliable content ranks on the top search engine result pages, turning readers into prospects. Branding specialists know how to initiate a user journey and influence viewers to follow a desirable path.

Social Media Marketing
The first and foremost thing every business must do is to create social media profiles. The emergence of social media offers more visibility, engagement, and conversions. Social media platforms like Instagram and Facebook reach an ample audience based on interests, behavior, occupation, and demographics. Likewise, social media ads offer promising results quicker, so you can manage them for more leads and conversions. Branding pioneers clutch the attention of a mass audience to segregate prospects to lead them in the sales pipeline further.
Video Marketing
Nowadays, many brands are moving towards multimedia platforms for branding and promotion. Video marketing plays a significant role in the smartphone arena, offering a broader and more accessible reach. Most people prefer to watch videos instead of reading textual content to save time. Videos have a higher viewership with better message retention, proving to be a perfect marketing method.
YouTube is the best platform for video marketing to grow your business globally. Numerous inexpensive and free video editing software are available in the online marketplace. You can create a business video including your website link, call to action, and caption to ensure a desirable user journey. Branding consultants know the best practices of graphic design and creative visuals to embed captivating markers for higher engagement.
Benefits of Digital Marketing
There are several benefits of digital marketing, such as follows.
Increase Brand awareness
Target the potential audience
Improve search rankings
Expand your customer base
Builds relationships with the users
Save your time and money
Improve the Revenue of your business
Understand Customer behavior
Improve Brand Awareness
Trustworthiness and Loyalty
Stand Out Among Competitors
High Return on Investment ROI
Conclusion:
In Conclusion, it's safe to say that business can evolve enormously in a shorter time with the help of Digital marketing. The article outlines how a branding agency can help you market your business and by what means. If you have a business that you want to promote with Digital Marketing, hire a branding company that also offers the best Digital Marketing Services. Logo Design Valley is the best marketing, branding, and logo design agency, providing clients full-fledged branding and marketing services.