The Home Depot is a well-known network of outlets offering home building and renovation equipment. It also provides various tool rental and transport services to assist homeowners with home maintenance. The company's revenue in 2023 was over $157 billion, a 4.13% growth from 2022 when it was around $151 billion. Despite the post-COVID challenges, the corporation has succeeded in business growth and customer retention. Entrepreneurs and enterprises must evaluate its effective branding and marketing strategies for business growth.
Is it their logo design? Is it about how they place products in their stores? Or is it because of the consumer's perceptive value they have gained over the years? Let's explore the answers to its identity, positioning, and target market segments, establishing its reputation. Additionally, it is necessary to analyze the diverse promotion strategies fueling its business growth. It is also crucial to discuss some of the products and services that they offer, distinctive to their competition.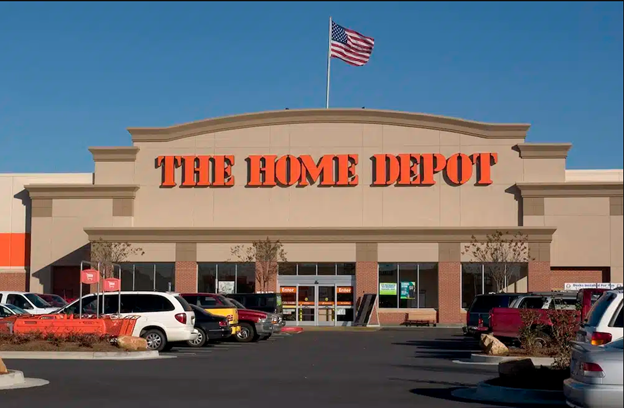 History of The Home Depot
It started when the President/Chairman and CFO of the 70s 'Handy Dan Home Improvement Centers' were struck with its acquisition. Bernard Marcus and Arthur Blank decided to open a store to help homeowners maintain their homes. The first two stores opened on June 22, 1979, in Atlanta, with the help of banker Ken Langone and merchandiser Pat Farrah. With a space of 60,000 sq. ft. and over 25000 products, it was a giant entrant in the industry. It went public on NASDAQ in 1981, raising around $4 million, enabling its first expansion in Florida.
A series of acquisitions and stores later fueled its growth to Hollywood, Fort Lauderdale, and Dallas. However, the company faced many financial and operational difficulties besides serious consumer safety controversies. In 1989, it surpassed >Lowe's Home Improvement, becoming the top home improvement store in the US. The installation program rolled out in 1991 with a 480-page guide, ">Home Improvement 1-2-3", to assist consumers.
The company acquired the famous Canadian chain Aikenhead's Hardware in 1994 for $150 million against a 75% stake. The stores were transformed, bringing a peak of $10 billion in revenue from 350 stores in 1995. The Maintenance Warehouse in San Diego, Apex Supply in Atlanta, and Your Other Warehouse in Louisiana were acquired in the 2000s. It also acquired the Del Norte in Mexico, Home Decorators Collection, and Hughes Supply, expanding further. The last decade's acquisitions were Interline Brands and the online presence of Hanover Direct (excluding its stores). Read about the History of UPS if you are interested in famous brand stories.
Services and Products
The 'EXPO Design Center' was a successful idea of The Home Depot to showcase multiple design options under one roof. Besides that, HD Supply, Interline Brands, THD At Home Services, HD Holdings, and Real Estate Funding are other subsidiaries. Compact Power Equipment provides equipment rental services, including cranes, excavators, and trenches. The Company Store offers sheets, towels, clothing, and home décor textile goods online, with other accessories. Blinds.com sells shades, blinds, and window coverings online, along with live consultations. Redbeacon, also known as Pro Referral, is an online business listing. The following are some valuable services and products of the home maintenance store.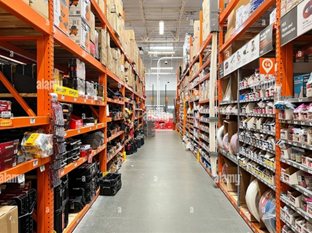 The Home Depot Rental services are one of a kind which saves you from home maintenance hassles and expensive purchases. It covers the subsequent domains per homeowners' needs.
Home Depot Equipment Rental
If you need equipment for maintenance work, you don't need to buy it. Through equipment rental Home Depot ensures your desirable gear is available anytime at your nearest store.
Home Depot Truck Rental
Home Depot truck rental covers you if you are moving or need to transfer an item from one place to another. With cost effectiveness, you can rent any moving and lifting machinery in due time.
Home Depot Tool Rental
It is the one-stop solution for the tools you require in renovation or construction. Home Depot tool rental makes sure you get new tools on rent that you can buy later in working condition.
Do you want to compare the specifications and pricing of appliances of different brands? Get to your nearest Home Depot Appliances store and compare various models and price options.
Home Depot Refrigerators
Whether you need a one-door, two doors, or three-compartment fridge, or even a deep freezer, they have it. Home Depot Refrigerators are of all shapes and sizes; you can choose accordingly.
Home Depot Water Heater
Electric appliances make your life easier by offering comfort and ease. Whether it is a hair dryer or a water heater Home Depot nearby is the best place to visit.
Home Depot Dishwasher
Kitchen appliance packages make the replacement of appliances or new purchases convenient. It comes in handy whether you are looking for a Home Depot Dishwasher, Air Fryer, or Juicer.
Maintenance doesn't cost you lots of money if you know the right place. Home Depot Home Services enables you to install, repair, or remodel your home with guidance and expert help.
Home Depot Sheds
Install or repair sheds or tuff sheds by selecting the perfect match with Home Depot Sheds.
Home Depot Kitchen Cabinets
Home Depot Kitchen Cabinets, tiles, and plumbing make it easier to remodel or restore.
Home Depot Windows
Select from the best Home Depot Windows, flooring, wallpapers, or décor to beautify your home.
With the Outdoor Services at Home Depot Landscaping and garden planning are not complex. Design your gardens, lawns, or terraces by picking the perfect offerings per your aesthetic taste.
Home Depot Mulch
Whether you need compost, soil, or fertilizers, Home Depot Mulch offers it at competitive prices.
Home Depot Plants
Select from a range of Home Depot Plants to add greenery to your sidewalks, front, or back yard.
Home Depot Pavers
A variety of Home Depot Pavers facilitates adding elegance to your street, sidewalks, or porch.
5.      Other Products
Numerous other products await your visit at the nearest Home Depot.
Home Depot Tiny House
Home Depot Tiny House is a one-room home set that can be delivered and assembled on-site.
Home Depot Gift Cards
Not sure what to buy to gift someone? Use the Home Depot Gift Cards to let them choose it.
Home Depot Paint Colors
Explore the different brands or shades for your walls or rooms with Home Depot Paint Colors.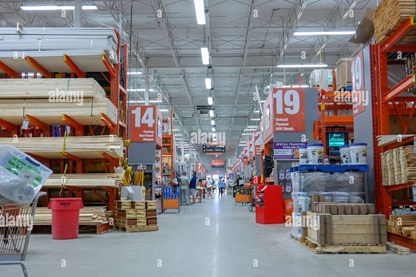 The Home Depot Logo
A logo holds significant importance in introducing, distinguishing, and energizing a brand to attract its audience. It helps influence buying decisions by aligning their expectations or demands with the brand's objectives. Everything in a logo design, whether its color, fonts, design, or background, aims to grab attention and convey the message. The logo design and branding strategy of famous brands are a source of inspiration for many entrepreneurs and enterprises.
1.      The Home Depot Logo
The Home Depot logo is known as "The Big Orange" or "The Stencil" in graphic design. Big Orange comes from its selection of the color of its logo background, while Stencil represents its font. Both parameters hold equal importance as the sole reason for its brand symbol's success. We will investigate the two for their appeal and influence, empowering retail stores since 1978.
2.      The Big Orange
Although there are a lot of colors, including black, white, and various other combinations, the company chose orange. Notably, it chose a square shape for the background, highlighting something imperative. Orange holds relevance with enthusiasm, confidence, and friendliness. It is a mix of red and yellow, where red denotes passion and affection while yellow represents joy and youth. Don Watt chose orange to portray the sun's energy while being a distinct apron color for employees. The square shape of the logo depicts a carton, store space, or an all-inclusive solution to viewers. However, the emotional meaning of the square shape conveys strength, efficiency, and professionalism. Big orange shines in all Home Depot logo images and assets.
3.      The Stencil
Be it the font choice, text color, or logo layout, the appearance stands out. It is a job so perfectly done that the text layout is still rare and memorable. The slanted wordmark or logotype has a custom logo design font closer to the Stencil Antiqua Al-Reg font. The Bold letters with a bigger center word, 'HOME', highlight what the brand is about and reflects its audience's intent. Meanwhile, the stencil style makes it readable for all as a common font style. The text with the white palette is easier to read and prominent over the orange contrast, boosting its visibility. The diagonal Home Depot logo vector is a brilliant minimalist logo with a simple yet modern design.
4.    Home Depot Logo Images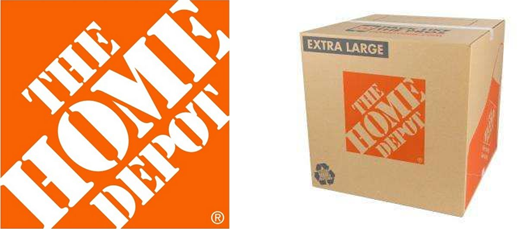 The Home Depot Branding Strategy
1.      Brand Overview
The brand belongs to the Home Care and Maintenance retail sector with an overlap of Garden Equipment and Services. The business type is retail and rental of physical products along with a pint of consultation and advisory services. Its online presence classifies it as ecommerce enabled but not a digital business as it operates various physical stores. The brand is a valuable product/service mix assisting the construction, maintenance, and renovation of housing units. Its key activities are supply chain management, physical stores, and sales management.
2.      Target Market
The fundamental target market of the store chain is 'Do-it-yourself', 'Do-it-for-me', or 'Weathered professionals'. Home maintenance costs surge as the cost of living rises in the US, making contractor services a luxury. The intended audience is segmented on a location basis, as is common in the brick-and-mortar industries. The brand's value proposition is to offer every potential tool and service to assist home improvement. Furthermore, it provides various essentials for kitchen, construction, or decoration. The customer relations mode depends on either self-service or assistive support 'Pro Xtra'.
3.      Visual Identity
The primary brand colors in its visual signage are #F96302 (orange) and #FFFFFF (white). Its brand typeface is Helvetica Neue for the brand message and Stencil for the logo. Apart from the brand's visual identity, numerous signs help navigators in its store find desirables. Moreover, the aprons worn by its employees bare the brand's name, similar to its logo. The employee's name is also written on the apron to identify them with relevant product categories.
4.      Brand Message
The brand's key message is "Special Buy Savings," which is the core driving mechanism of its business model. It displays the message on appliances or packaging boxes besides other areas, such as the website. The old slogan "How Doers Get More Done" was replaced in 2003 with a new tagline, "You can do it. We can help". Its call to action is "Shop Now," which is common and well-understood in the retail industry. The products are sold by features which is the brand's primary focus. It uses an informative, friendly, and dry tone in its messages with some variations.
5.      Value Propositions
The value propositions for positioning the brand are Aspirational, Emotional, and Functional. Its Aspirational values are driven by self-actualization, while emotional positioning provides access. The functional proposition offers variety, time-saving, and cost reduction. It also highlights three brand benefits that define its valuable products and services. Initially, it focuses on providing every home improvement product a homeowner could ever need in one place. Additionally, it offers a cost-effective purchase by comparing the brands on price and features. Moreover, it highlights the satisfaction and empowerment of home care on a budget.
6.      Branding Strategy Infographic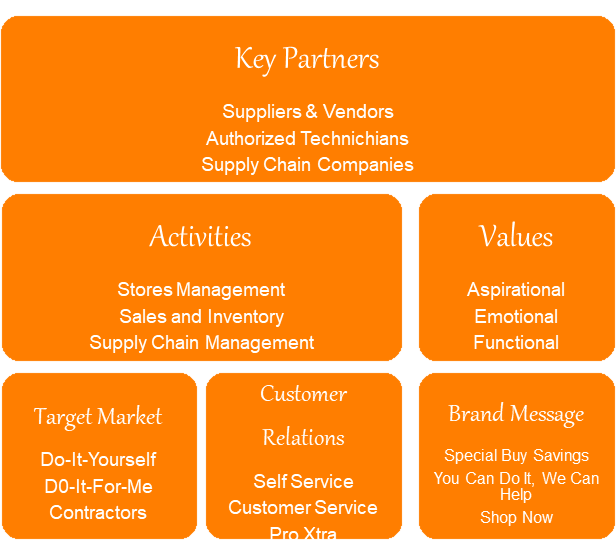 The Home Depot Marketing Strategy
With direct competition with industry leaders like Walmart, Bed Bath & Beyond, and Lowe's, efficient marketing is necessary. The essence of a brand's marketing strategy lies in its products, pricing, placement, and promotions. Let's delve into the realm of the four Ps of Home Depot marketing strategies for inspiration, learning, and business growth.
1.      The Home Depot Product Strategy
The brand has a diverse feature based product strategy with three profound aims. Firstly, One Home Depot strategy marks the availability of every desirable tool and equipment for DIY customers. Secondly, the services of rentals and Home Depot/design connect ensures a swift consultation and completion. You can call on 1-877-355-9817 for discussion or advice on your kitchen layout. Moreover, the strategy of identifying consumer behavior helped it reach the echelon of success. Technology, style, and job profile are the parameters for defining and predicting a consumer's behavior. The three strategies combine to empower the brand offerings.
2.      The Home Depot Pricing Strategy
The Home Depot pricing strategies are all focused on affordability and convenience. The Everyday Low Pricing (EDLP) strategy initially allows homeowners to buy essentials at economical rates. Consequently, renting out new equipment to sell later at an affordable cost allows customers to rent products. They can later buy the rental equipment once it is for sale at the store with a discount and in good shape. Afterward, its comparative analysis strategy lets consumers decide on a brand based on features and pricing. The Home Depot pricing strategies aim to offer affordable products and services with valuable benefits.
3.      The Home Depot Placement Strategy
The placement strategy has two dimensions; corporate strategy and store layout Strategy. The Home Depot corporate strategy uses market development mechanisms for growth and expansion. It adds new stores to its network to cater to the needs of its geographic market segments. The Home Depot store layout strategy ensures that stores are full of inventory from corner to corner and floor to roof. It deems the necessity of every possible item a client might need to improve or upgrade their home. The Home Depot placement strategy is a major reason for its wide network and effective marketing campaigns.
4.      The Home Depot Promotion Strategy
The Home Depot promotion strategy focuses on the tagline, brand message, and CTA and uses modern means to promote the brand. Older tagline of Home Depot How Doers Get More Done (often mistaken for Where Doers Get More Done) portrays empowerment and appeal. It maintained the same with the new slogan "You Can Do It, We Can Help" across different channels. The Home Depot social media accounts and Home Depot advertising broadcast the logo and slogan to reach the maximum audience. The brand message focuses on 'Special Buy Savings' with a rich call-to-action 'Shop Now.' It primarily uses local ads to convey the message, supporting it with a website for a global reach with promotions. The Home Depot marketing department makes sure that every marketing strategy lines up with its branding guide. The TV commercials and deals are diverse and appealing, vitalizing each Home Depot marketing strategy.
5.      The Home Depot ESG Strategy
The Home Depot Foundation is a true reminder of its cofounders' vision to pay back to society. It not only improves the lives of US veterans and tradespeople but also provides community support. Whether it is a natural disaster or filling the labor gap, the Home Depot Foundation has a solution, 'Built From Scratch.' Built from scratch is also the foundation's slogan, which invested around $475 million in different programs. It also pledges to invest half a billion in veteran support and $50 million in youth training through 'Path to Pro.' The subsidiary offers construction and housing grants to veterans as its environmental and social governance strategy.
6.      Marketing Strategy Infographic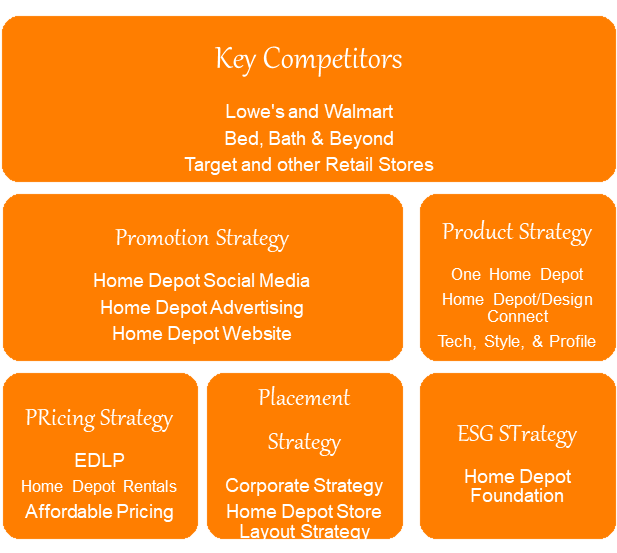 Conclusion
We discussed in detail the history, products/services, logo design, branding, and promotion strategies of The Home Depot. The history and success of the brand inspire many entrepreneurs and enterprises to follow in its footsteps. However, it is necessary to understand and evaluate its business model to determine the underlying causes. Therefore, the strategies that took the brand to its pinnacle are worthy of your precious reading time.
The logo design gains you an idea of how branding begins while the products and services deliver a brand's value. The branding and promotion strategies will help design an effective direction that brands must follow. If you need a logo, branding, and promotional design to uplift your brand, consider hiring a professional logo design service. Businesses need to select a company that offers various relative facilities such as mobile apps, social media, and web design services.
Please visit Our Design Blog