Startups and businesses strive to achieve more results in a limited time and budget. Inflation, competition, and market saturation make it more challenging to incur expenses that bring growth. All business areas need investments to upgrade the final product or service quality, and the same goes for branding and promotion campaigns. A business must consider its budget restraints while opting for marketing, branding, and especially logo design.
Logo design cost depends on several factors that may be internal or external to the business. Internal factors are the business nature, audience size, competition intensity, technical expertise, and support requirements. External factors are independent of the industry, such as the medium selection, designer's profile, operating costs, legal costs, and location. In the subsequent sections, we will discuss all the internal and external factors of logo design cost.

Digital tools like AI and online logo makers make obtaining a logo for smaller businesses or startups much easier. Freelancer designers and online platforms also provide many services, including branding and logo design. A logo design agency is an excellent option for medium to large enterprises, but the costs are relatively high as it guarantees higher returns on investment. We will also discuss the different options for logo design and their prices to guide our readers.
Assessing the Cost of a Logo Design
Logo designing is a step-wise process of researching the target audiences' interests and embedding them in the logo design concepts. It also requires generating multiple design options and refining the best of them. The procedures add to the costs of logos, making them expensive.
Generally, a good design may cost anywhere from $2 to $200 million. Surprised? Let us explain.
Anybody can use an AI logo generator and download the final design paying a few dollars. However, the most expensive logos of famous brands justify the various factors that impact the logo design cost 2023. The contributing factors can be categorized into two major parts as follows.

1.      Internal Factors
The elements internal to the industry and the business are:
Ø  Business Nature
The nature of a company, the variety of its offerings, and the magnitude of its operations all impact the final price of its logo. Any complex organization with multiple departments will get higher quotes for logo design than its smaller counterparts because of its business nature.
Ø  Audience Size
A company with a global audience needs a more widely acceptable logo design than a regional or local firm. Attracting a larger audience requires adopting best practices, minimal design, and avoiding colors as they might indicate different emotions in different cultures. It makes the design job more challenging as designers must perform lots of research.
Ø  Competition
The level of competition in an industry also plays its part. Intense competition, like Coca Cola vs Pepsi, requires a powerful appeal in the logo design, intensifying design work. Moreover, competition demands uniqueness and distinction in the logo, which is easier said than done.
Ø  Expertise
The authority and superiority of a brand highlight its value proposition and strong organizational culture. The technical expertise of the business is also a vital factor in its logo's cost. A logo design agency may charge thousands of dollars for a renowned and leading company emblem.
Ø  Support
Small businesses that merely need post-sales support get lower quotes than others. Larger companies need a full-scale design implementation that adds to the cost of their branding icon. Implementing a logo takes up efforts similar to designing it and involves certain charges.

2.      External Factors
The elements external to the business and its industry are:
Ø  Selection of Medium
Online logo makers are a dime a dozen, while top designers charge a fortune. Among all the online and offline media, a company must choose the best that suits its needs. The medium that you select for a logo design impacts the cost significantly. We will discuss it later in this writing.
Ø  Designer's Profile
The profile of a designer influences the logo cost. A famous designer with an attractive corporate portfolio may charge millions for a project. The expertise, experience, and knowledge of the best designers are worth more than they charge. Amateur designers accept the smallest of offers.
Ø  Operating Costs
The costs of operating businesses are another crucial factor. Companies in commercial city hubs charge way more than freelancers. Nevertheless, everyone will adjust their pricing for inflation. As the costs of doing business increase, so does the cost of a good logo design.
Ø  Legal Costs
If you want to protect your logo through copyrights and patents, you will also pay a fee. Legal costs will add up to your final price, but ensure your emblem's legal and rightful usage. Some logo design companies offer legal support, adding some charges to the final invoice.
Ø  Location
The location of a designer or design company matters significantly in their pricing. Designers in Dallas and New York charge the highest for their professional expertise. However, offshore designers in Asian countries charge less for designing concepts and branding solutions.
Let's Review Some Figures
This section will provide an overview of the pricing schema of different designers by addressing some factors from the above sections. Review the following table of average costs. An in-depth analysis of these figures will help you select an option that best suits your needs and budget.
Logo Design Cost by Different Factors and Options
| | | | | | |
| --- | --- | --- | --- | --- | --- |
| Designer Type | Company Profile | Competition Intensity | Designers' Location | Legal and Other Costs | Support Requirement |
| Online Logo Maker | $2-$25 | $2-$25 | $2-$25 | $50-$150 | $50-$150 |
| Freelance Designers | $20-$100 | $20-$100 | $20-$300 | $50-$300 | $100-$400 |
| Online Platforms | $30-$500 | $30-$500 | $30-$700 | $50-$1000 | $50-$1500 |
| Logo Design Agency | $150-$3000 | $150-$3000 | $150-$3000 | $250-$3000 | $250-$5000 |
| Famous Designers | $50,000- Over $1 Million | $50,000- Over $1 Million | $50,000- Over $1 Million | $70,000- Over $1 Million | Over $1 Million |
When you consider the price of a logo design, you must look beyond the average hourly charges of designers. Experts will charge the highest per hour and also for the value that the final design holds. However, an online logo maker doesn't charge for value; any legal or support costs will depend on your decision. Opting for a registration, patent, or trademark will impact the final cost.
Charts of Lower and Higher Price Ranges
The following chart portrays the minimum range of a logo design's price. You may see the clear difference in the schema of different design options. We removed the famous designers from the chart because the online logo maker figures were not even visible in that chart.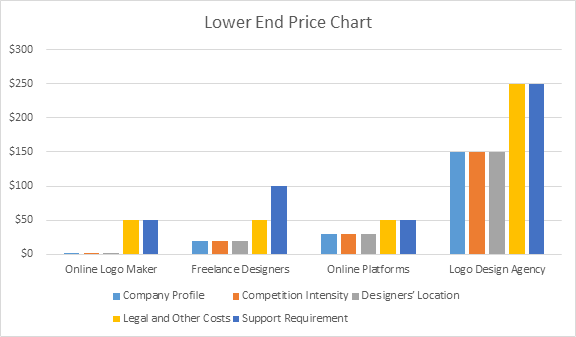 Another price chart shows the higher end of selecting an option. The costs are average that aim to reflect the differences. Exceptions in the pricing of a platform, freelancer, or agency may exist. We also understand that many companies offer flexible and multiple pricing plans. Reviewing the next charge will help assess the higher end of the bargain according to designer profiles.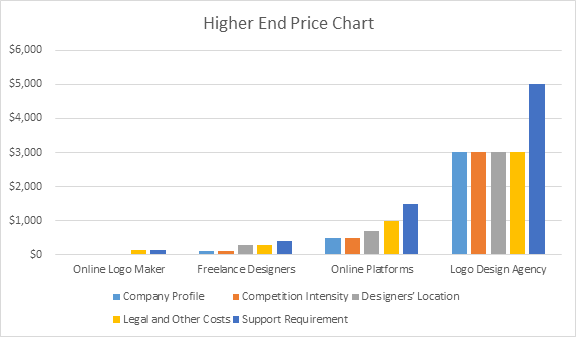 Available Options for Designing a Logo
After going through the average pricing data, businesses must also assess the strengths and weaknesses of available design options. There are important things apart from pricing that adds value to a logo. The experience, expertise, and knowledge of designers are some elements necessary for an iconic logo. Let's discuss each of them in detail.
An online logo maker is a digital AI-powered tool gaining popularity for its vast design libraries and AI capabilities. It generates a design from minor inputs like company name, industry, and slogan. Many websites and mobile apps offer online logo makers that are easy to use and don't require design skills. Small businesses use such tools to get their branding symbols, usually paying a small price or, in some cases, for free.
Strengths:
Online Logo Makers are free to use
Design Skills are not necessary
Generates plenty of designs using less input
You pay for the final design when you download it
Weaknesses:
It doesn't take into account audience preferences
Limited editing and refining options
Offers similar designs to every user
It doesn't guarantee ownership or copyright protection
2.      Freelance Designers
There are many freelance web designers that you can hire through personal websites, platforms, and service listings. The freelancers might be amateur or experienced, charging different hourly rates according to experience and skills. Listing journals or platforms may display their reviews, ratings, and pricing criteria. Businesses must ask for recommendations from previous clients to gain insight into the capabilities of freelance designers.
Strengths:
An unlimited pool of talent for design projects
Fresh and unique ideas with creative designs
Experienced freelancers produce value on a tight budget
They understand their local markets if you plan on expanding there
Weaknesses:
There is no guarantee of timely delivery
They might be working on multiple projects at once
Amateur freelancers don't have expertise and experience
Seeking support, revisions, or finding them again is difficult

3.      Online Platforms
Online marketplaces are making lives easier by bringing the buyers and sellers of services on a single platform. Buyers can apply filters and find the most suitable candidates along with their reviews and portfolio. Businesses can interact, interview, and hire their preferable candidates who can work on the design. Payments are managed by the platforms that charge a percentage of the project as commissions.
Strengths:
Platforms are accessible 24×7, reflecting the status of your project
They offer refunds if your project isn't delivered or has poor quality
Provide an insight into the skills of service providers by profiling
Offer a list of professionals that are ready to take on the project
Weaknesses:
Project delivery might face delays or failure, with just a refund and apology
They don't offer post-design support or legal protection services
Designers might share confidential information or reuse the design
Some profiles might use fake reviews to attract buyers n platforms
4.      Logo Design Agency
A logo design agency is a far better choice than any other medium. An agency balances out the weaknesses of different options and offers more value for money. There are many agencies in Dallas, New York, other US cities, and even other countries with different pricing. It employs a team of professionals that look after the different areas of design. A logo design agency also offers extended support and different pricing plans to suit the requirements of startups and companies. Utilizing their services brings growth as they also provide other branding services.
Strengths:
Team of professionals with expertise, experience, and skills
Their research process assesses the audiences' interests and preferences
The design process uses a team focusing on different design areas
Legal protection services and confidentiality of design are guaranteed
Project delivery within the agreed time frame is guaranteed
Offers post-sales services and other branding design services
The agencies have different pricing plans with a mix of value-added services
Weaknesses: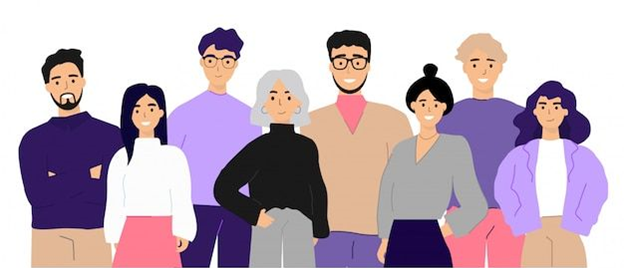 Agencies charge a little higher than freelancers and online platforms
Collaborating on your design might require your time, but it is essential for quality
Offer a limited set of design concepts and revisions in a single plan
5.      Renowned Designers
Designers with impressive portfolios, including corporate clients, are the gurus of the design industry. Their unmatchable skills and vast experience allow them to deliver vibrant designs in lead time. Someone might think that they charge a fortune, but the reality is that their designs assure a higher return. That's why businesses hire their services to gain maximum engagement.
Did you know about the most expensive logo? British Petroleum's logo design cost was around $210 million. Renowned designers are the kings of the branding world, and many companies can't afford their exorbitant services. Paying a fortune also promotes the brand as a most expensive logo design buyer and brings in more attention, and companies take this benefit.
Strengths:
Exceptional experience with vast knowledge and skills
They know how to appeal to the audience in their respective markets
Have a clear idea of the pros and cons of using any design elements
Possess the ability to design vibrant and influential logos to attract the masses
Weaknesses:
Use a premium pricing approach that's way more than the budget of a medium enterprise
They often come up with a one-and-only design iteration that you have to take or leave
They don't like companies interfering in the design process, ruling out requirements
Conclusion
The logo design cost is a collective product of all the internal and external factors. It also depends on the medium for designer selection. Assessing the capabilities of the designer types is crucial for obtaining an attractive, distinctive, and appealing logo. Companies invest heavily in branding to generate a positive brand image and attract more audiences. In the long run, the investment pays off by providing many benefits like revenue growth and business expansion.
The tabular and visual representation will most likely answer how much does a logo design cost. The factors we highlight in this writing will help you understand the basis of cost calculation. It will also ensure you select the medium that best matches your budget and requirements. Adding value to a company's logo to attract prospects is more important than the design cost.
Pricing isn't the only important factor in a logo design project, so entrepreneurs and managers must focus on the other vital aspects of a logo design project. The available options for logo design and their strengths and weaknesses will help businesses to hire the best alternative. Hire a professional logo design company and enhance your campaigns to grow revenues.
Please visit Our Design Blog.