The recent New York Times Mini Crossword sparked a debate over the "Nonprofit org. with a panda logo". The New York Times website offers numerous games for free or subscriptions, like crosswords, mini crosswords, Sudoku, and Spelling Bee. The mini crossword on 10th July gave a clue for the panda logo nonprofit that crashed the internet. The correct answer was WWF, but we thought to write further on this clue to guide students, designers, and business owners.
Numerous nonprofit organizations are operating worldwide for different causes and issues. However, very few have been able to gain the mass attention and public support that a nonprofit could wish for. Moreover, the obvious way to conclude such hints may sometimes work, but there is more to a clue than we usually think of. Here are some more panda logo nonprofit organizations you can search for and use as design inspiration for your next business project.
1.     WWF
The obvious answer to the clue is an organization deeply connected to wildlife lovers and enthusiasts. The World Wildlife Fund has numerous programs and projects for protecting, preserving, and exploring global wildlife. WWF is trying to preserve and restore nature for the benefit of people as well as many other animal and plant species. WWF's international acknowledgment and recognition make it the leading nonprofit with a worldwide network.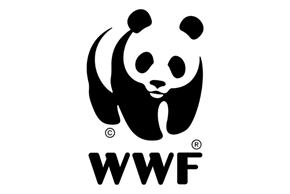 WWF Logo
The WWF logo is a panda marked by black color and negative white space, which is transparent. As a mascot logo, it perfectly blends its identity with the audience's interests, using a monogram with WWF initials in bold capitals. The brand symbol of the foundation depicts the protection of wildlife and natural places. Their commitment to utilize all available resources, talent, and solutions for a sustainable environment inspires millions. The logo is a ray of hope to people who want to pass on a rich, secure, and nature-friendly earth to the next generation.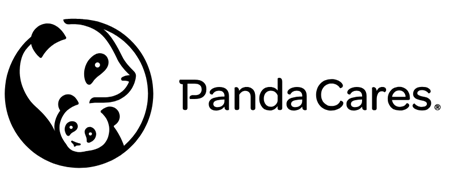 Anyone living in the US or fond of Chinese cuisine must know the name of the Panda Restaurant Group and Panda Express. The restaurant runs a charity Panda Cares. since 1999 to provide food, funding, volunteer, and disaster relief services to communities. You can find the in-store donation boxes as well as the list of supporting business partners on their website. The organization raised and donated funds for Indian Ocean Tsunami and Hurricanes Katrina, Rita, and Wilma. It also partners with nonprofits like Children's Miracle Network, The Leader in Me, and Feeding America.
Panda Cares. Logo
The logo is a combination of a mascot, pictorial, and wordmark logo. The circular image on the left depicts a panda parent and baby with curved and thick black marks and negative white space. It perfectly defines the love and care of the duo and their natural bond, while the words represent philanthropy. Written in plain black, "Panda Cares." is a testimony and promise to the hunger-stricken underprivileged individuals. The organization has served around 2 million meals to date, with countless hours spent by volunteers for activities and programs.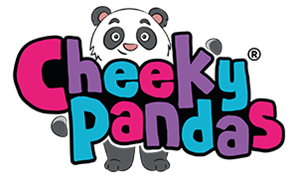 In 2018, Pete James began creating children's songs and music videos with this brand name. Worship bookings and an anonymous initial sponsor funded the entity. It grew with time, gaining viewers on YouTube as the best Christian channel for kids. The Covid-19 lockdown grew as church gatherings shrank and people switched to digital sources for children's religious education. Seed funding allowed the formation of the Swell Revolution with Pete as chairperson.
Cheeky Pandas Logo
The logo has a panda as a cartoonish mascot standing up and holding the colorful brand name. The text uses irregular and heavy-weight small letters with capital initials. Cheeky is written above Pandas, but the latter starts and ends slightly further than the former. The colors in the panda mascot are grey, white, and pink, while the letters randomly have a blue, purple, and dark pink palette in 4 letters each. With the increasing screen time of kids, the brand is a perfect platform for Christian families looking for prayer songs and videos online. Colors make it easier to appeal to the intended audience (children in this case) and stand out from the competition.

In the 1980s, Louise Thomas and Robyn DeBell founded Steele Children's Research Center after Robyn's 9-year-old son died of cancer. The organization's aim was to research the causes and treatment of fatal childhood diseases. Moving to Phoenix, Robyn met Penny Gunning, who wanted to start a children's fashion show AZ Panda for fundraising. Finally, the research center moved to Arizona with the help of 35 incredible women who saved many children's life. Contributing around $30 million to the research center, AZ Panda still runs activities and shows.
AZ PANDA LOGO
The AZ Panda logo is brilliant, with a panda figure side pose resembling a puzzle piece. It shows the capital bold letters for the word PANDA with the full form written below. People Acting Now Discover Answers. The slogan is an excellent call to step up and change what bothers us by participating in communities. The Arizona (referred by AZ) Panda is a source of inspiration and perseverance to many in the US or anywhere else.
The "Cheng Du Research Base of Giant Panda Breeding" is a specific Giant Panda mission famous as Panda Base. It is located in Chengdu City, Sichuan Province, P.R. China, an area perfect for research, conservation, and breeding. Apart from giant pandas, the sanctuary also houses red pandas and other endangered species of China. The site receives tourists and research missions from around the world with parks, galleries, museums, shops, and a research center.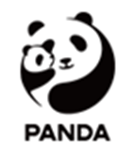 Panda Base Logo
The logo of the research and conservation project is again a panda baby in its parent's arms. This mark also blends black shapes and curves with negative white space to form an image. The text below the image has a bold and capital letter font in black. It only uses the word Panda for its brand name, a common practice for companies with long names. The logo portrays a parent's love for its kin and perfectly resonates with the organization's mission and vision.

Suzanne Braden and Diane Rees felt abundant grief after a trip to China's Wolong Panda Center or Panda Base. The fact that there are only 2200 giant pandas left influenced them to start a nonprofit to save this species. Braden looks after the needs of the research centers, especially after the 2008 earthquake that harmed the research center and the habitat of the specie. Pandas International aids in symbolic adoptions, fundraising, and support programs for diverse needs.
Pandas International Logo
The nonprofit's logo is a green, black, and white pictorial sketch of a Panda face in its habitat. The brand name on the right uses black fonts with capital initials above an influencing green tagline. It pushes you to do something before the extinction, saying, "Endangered means we have time… extinction is forever". It is a mix of appeal and call-to-action, conveying the brand's message.
Conclusion
As our earlier statement suggests, there is more to a clue than we usually think of. You may or may not know the panda logo nonprofit organizations other than WWF. As a part of the American community, we understand the importance of philanthropy in improving society. Many small and medium-level nonprofit organizations need our support and funds to improve the world. We shall rise again by participating in the improvement efforts led by remarkable and inspiring people.
Branding a nonprofit organization for a wider reach and promotion is vital to its mission. Consider hiring a logo design company that offers logo design, web design, branding, and promotional design services. Consistent branding across all platforms brings a higher return on marketing and fundraising investments. Contact Logo Design Valley for branding your nonprofit organization.
Please visit Our Design Blog