The healthcare industry has limitless opportunities as it grows with digitalization trends and tech advancements. IT services for healthcare are reshaping the industry for a better future by offering numerous solutions. People always search for small business ideas by saying, "I want to start a business but have no ideas." They usually misinterpret that you don't need a fresh idea for a decent business, nor a huge investment. A good niche is scalable, profitable, and demand-driven.
What you need is a solid business plan compliant with the latest trends and unmet customer needs. You can invest in a website or app platform for starting a digital dental business by hiring the best professionals. A smile-worthy website can convince your prospects to connect with your dental ambassadors for pain relief and cosmetic procedures. Let's address some concerns first.
The rise in demand for dental Implants and the cost of cosmetic dental surgery inspires many to start serving this niche. So, we address in this section the questions pertaining to the creation, optimization, and growth of a digital dental service. Hiring the top website design companies could enable startups to mark an impact far beyond traditional means. An effective dental web design can cater to the needs of various market segments while earning handsome revenue. The best dental website designs won't be of any use without considering the following queries.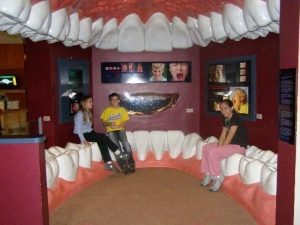 Dental Interior Design, Image Courtesy: www.pinterest.com
1.      How to Create a Dental Website?
To create a dental website, you need to consider three things: need gap, feasibility analysis, and restraints. Need gap allows for measuring market potential, feasibility assists in solution formulation, while restraints refer to time and budget limits. Creating a dental practice website design follows the value-addition process of definition, development, design, debut, and defense.
Initially, the cost of cosmetic dental surgery and dental implants is enormous, and prospects find it difficult to compare alternatives. Additionally, a healthcare website design and development costs too much, so you can opt for AI tools and other platforms. However, you can proceed if you can afford the dental website design cost or use a dental website builder. Moreover, there are no dedicated dental website design companies, so what you can do is find an expert one.
A web design agency with diverse experience and a team of professional web developers and designers would do it. You may also try third-party platforms like Wix or WordPress for dental practice website design without coding skills. What matters in dental website development is providing customer-centric solutions with excellent customer service.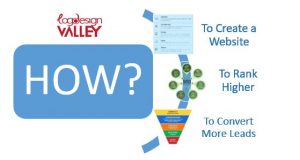 2.      How Do I Get My Dental Website to Rank?
Creating a website is one thing; improving its prominence and traffic is another. Search ranking fuels the fame and client base of entities like United Healthcare Shared Services and Dental Design Smile Miami. It involves aligning website content with SEO best practices, user-friendliness, and search intent to show higher on result pages. Dental website SEO will require content creation for keywords that pertain to the domain to offer information and solutions.
You can also hire professional SEO for dental website rank improvement on search engines while providing helpful content. Moreover, its ranking depends on other factors like website design, loading speed, and page performance. You can optimize these factors by hiring proficient dental website designers and selecting an SEO-friendly dental website template.
3.      How to Generate and Convert More Leads?
People may ask questions like, "why dental results website not working?" or "why my website isn't generating any leads?". The first pertains to the disruptions in a website's uptime (the time a website remains accessible). At the same time, the second one relates to its capability to convert prospects into clients. Firstly, choose a reliable, reputable, and robust dental website hosting platform that keeps the website 24/7 accessible. Secondly, a dental website template free of cost doesn't guarantee lead generation and conversion.
Top dental website designers don't rely on generic templates and pre-made visuals as they fail to retain visitors longer. Graphic design best practices emphasize researching your intended audience for their visual tastes and appealing stimuli. They embed the most suitable colors, fonts, shapes, and objects, ensuring a desirable user journey from visit to conversion. Provide the best user experience through UI/UX design and navigation as best dental website companies do.

Best Dental Website Designers to Hire in 2023
Once we understand the fundamentals of website development, we can proceed. We are providing the list of the best website designers to hire in 2023 for your digital dental business. You can compare them per your design and development needs, matching their expertise. Later, we will review the selection basis, which would aid your decision to hire the best one.
When it comes to selecting the best IT services for healthcare website design, Logo Design Valley is the top choice. The leading promotion and branding company offers a wide range of design and development solutions. You may request a medical logo, branding layouts, and web design consistent with your brand colors and font styles. It offers an insight into its diverse portfolio and budget-friendly packages with testimonials affirming its leadership in the domain.
2.      Studio Ubique
With almost 50 design content wins and 117 runner-up positions, the second best choice is Studio Ubique. It offers branding, UI/UX design, and custom software development services, including platform solutions. Repeat clients further portray their quality work, while their past projects are a mix of fresh ideas and versatility. You can visit their profile or contact them for further insights.
3.      Masiko
Magda, with the profile name Masiko, is working as a UI/UX designer for almost 7 years. The contender ensures a responsive website design with a total of 24 contest wins and 26 run-ups. You may contact them for a dental web design as they hold a relatively higher repeat clientele, depicting professionalism. Unfortunately, they aren't willing to work in teams, as the profile says.
4.      Karen Vardazaryan
Karen is not just another professional with creative design skills, but it is a team of skilled UI/UX developers and designers. They are available for logo, branding, and development services after pocketing 40 contest wins and 62 second spots. Their response rate is a whopping 96%, with sufficient repeat clients that reflect their ability to produce the best dental website designs.
5.      Zazi K
Zazi provides services for desktop and mobile-friendly responsive websites, unlimited revisions, and full refund in case of dissatisfaction. Through a special interest in ecommerce and marketing, the contestant holds decades' worth of experience in freelance graphic design. With offers similar to the dental website design companies, they are ready to cater to your diverse design needs.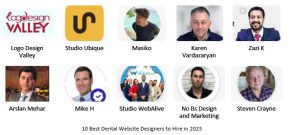 6.      Arslan Mehar
The top-rated candidate has 21 orders in the queue due to his responsive development, ideal for a dental website SEO. Arslan has an interest in branding and optimization, which can enrich the layout and results of your digital front significantly. The designer has a reputation for satisfactory jobs along with a strong rating, besides promising a money-back guarantee and 30-day support.
7.      Mike H
If you need a UI designer and a UX designer at affordable prices, Mike has everything for your online business. The aspirant provides custom content, an onsite contact management system, and interactive elements besides Google Maps integrations. Almost a thousand people have benefitted from the skills of the top-rated expert, with 5-star reviews and relishing feedback.
8.      Studio WebAlive
Studio WebAlive is an Italian team of professionals working on platform design, branding and marketing solutions. They offer SEO, migration, content, analytics, and design services, providing an edge with email marketing, store optimization, and image editing. Over 700 project completions are reflective of their commitment, with a rating of 4.8, which is worth your money.
9.      No BS Design and Marketing
Although the name sounds somewhat amateur, we assure you an excellent service worth every dime. With a unique interest in web redesign and platform migration, the company offers SEO services and social media management. The 490 projects are evidence of their expertise in the domain, while the 5-star rating highlights customer satisfaction.
10.  Steven Crayne
The best Wix design and SEO agency, owned by Steven, is a top 100 Wix agency partner. The web design agency works with clients from different industries, delivering the best value, earning them five stars. They have a total of 383 project deliveries, with a few that will soon add to that. The vast experience, diverse clientele, and high professionalism guarantee a higher return on branding and design investments. They also deal in professional photography and image editing.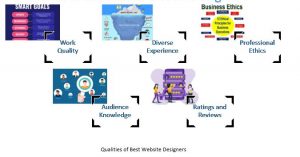 Merits of the Best Website Designers
It is up to you to roam free in the online wilderness and explore some pretty good options for yourself. However, there are some metrics on which you can analyze a professional web designer capable enough to uplift your brand. Seek the following merits in a professional for good results.
1.      Work Quality
The first and foremost factor to analyze in a professional web designer is their work quality. We don't want you to compare it to the best dental website companies, but still, it must be optimum. They should have knowledge of custom design and development rather than just using random dental website templates free of cost. It would reflect their reviews and testimonials, so we encourage you to step forward and contact their past clients. Moreover, you can hire them for a small deliverable to gauge their worthiness to work on your overall project.
2.      Diversity of Experience
Any designer showcasing a diverse portfolio is better than one with countless projects within a few industries. It shows how diverse and skillful the candidate is in terms of fresh, original ideas and different market segments. Moreover, a weathered designer would understand the underlying issues in each industry. It depends on the experience of the contestant to facilitate the transformation of challenges into opportunities. Even the latest tools and up-to-date skills can't compete when facing vast experience.
3.      Professional Ethics
If you have the resources to hire the best professionals with big names, but they ignore your requirements, how's that? You must proceed with the one that keeps professional ethics at the top. Not only would they listen to your issues, but also allow you to collaborate on formulating a good solution. It ensures sourcing fresh, original ideas that are distinct and optimal for your brand objectives. Moreover, in-time delivery is a must, as dental website design companies arrange.
4.      Audience Knowledge
One crucial thing about creative visuals is the knowledge of the audience's visual taste and thought process. It requires engaging visitors by triggering their visual taste and leading them to transact with the brand. Audience knowledge is mandatory to evaluate the impact of different color schemes, fonts, and visuals that can influence prospects. The more they invest time in research and analysis, the more value you will find in your layout's appeal.
5.      Ratings & Reviews
Reviews, ratings, and testimonials are a great way to depict past customers' satisfaction while screening the fake ones. Although ratings fail to provide a thorough insight, testimonials are a better tool to grasp a designer's capabilities. Moreover, you can ask for recommendations from your industry peers for their experience with an individual or company. You can also ask friends or online forums for their stories to help you decide whom to hire.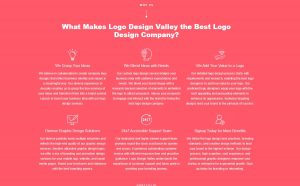 Conclusion
You might be thinking, "I want to start a business but have no ideas." looking for digital small business ideas. The dental cosmetic and healthcare industry offers numerous opportunities for dental website development. The real success lies in robust dental website hosting, affordable dental website design cost, and SEO for dental websites. We recommend using a no-code or low-code dental website builder on a platform if you are tight on budget. You can hire the best dental website designers here for inexpensive or cheap web design and development.