An average individual might not know the differences between a website and a graphic designer. Entrepreneurs and small business owners might not have the knowledge of the domain, and it's completely acceptable. However, asking questions may satiate the curiosity only if they want to learn and grow. We usually face questions like, "What is web design?", "How to design a website?" and What is a web designer?". So, we address all these in detail for aspiring learners.
The ones with basic knowledge might want to delve into details of principles and tips for designing websites. Additionally, the roles and responsibilities of a web designer will allow you to plan your projects accordingly. Moreover, the compelling reasons to trust an expert website designer will highlight the key benefits and essentials. Furthermore, the alternatives of a website designer for hire will lead you into the comparison of hiring options. Let's begin with the basics.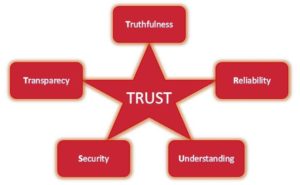 Addressing Your Concerns
Before we proceed to the reasons to trust an expert, we want to address your concerns. We will highlight the basics, responsibilities, and design principles so you can discover a suitable option.
What is Web Design?
Website design is a field of graphic design that deals with the schema of website development. It is largely relative to the visual design elements of a web page, with a pinch of performance optimization tactics. Graphic design is more diverse and entails logo design, website design, business card design, flyer design, or other visuals. However, web design strictly pertains to page layout, landing page design, and web app design. It aims to optimize the interface through user experience design and user-centric development. The probability of a visitor staying on an online page largely depends on its layout, colors, fonts, menu, navigation, and sitemap.
How to Design a Website?
You must follow the web design best practices and necessary design process to design a website. It relies on understanding the viewer's needs, aligning them with business objectives, and crafting an amusing user journey to conversion. Let's review the significant steps in the design process.
1.      Brainstorming & Research
The design process starts with brainstorming sessions and discussion on layout ideas, validating each concept on functionality. Research is also essential for evaluating the prevalent needs of the target audience and finding out what they expect. It is essential for a user-centric website to use features and schemes that influence users to engage longer.
2.      Planning & Allocation
The next step requires finalizing the blueprint for what to place anywhere, including fonts, colors, and themes. It also addresses the simplicity of the sitemap and optimization of navigation paths on the web pages. Allocation covers the caps that control the project, such as budget, time, and resources. Managers assign responsibilities to each stakeholder with a clear, goal-driven strategy.
3.      Design & Development
The real magic happens in this stage, where the graphic design website starts taking shape. It is mandatory to analyze the impact of design elements such as high-resolution images, animations, or video content. It might impact the loading speed, site performance, and hosting limits, so they optimize each element for usage. The knack of development is necessary for professionals as some components might need coding on the front-end or back-end. If you don't have a back-end developer, you may use the no-code drag-and-drop features on various online platforms.
4.      Testing & Implementation
Once the graphic design website is ready, you must test it rigorously for bugs and redundancies, including security vulnerabilities. After passing the testing mechanisms, the layout is ready for deployment using all design essentials. Implementation might face issues, so add each progress in different versions and updates for easier restoration to a prior version. It is vital to have a backup and security policy ready from day one that outlines what to do if a risk emerges.
5.      Analytics & Improvement
Different plugins or analytic tools are available for free or at a price to analyze the website's performance. Admins can identify API, integrations, and web page issues or track user journeys, time spans, and heat maps. It helps evaluate areas that receive more traffic or clicks and improves them with CTAs, prompts, and funnels. Analytics and improvement is a continuous process where you keep on adding better features, swift functionality, and lead magnets.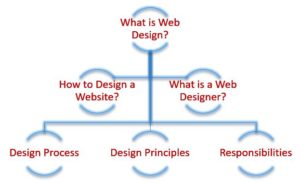 What is a Web Designer?
A website designer is responsible for the core design and development stage of a project. They craft the digital design of a webpage or site by employing the suitable elements of design. Usually, they work on UI UX design, which pertains to the user interface (UI) and user experience (UX). Some projects do require them to code along with creative design activities, but developers are mostly responsible for that domain. Complex projects overlap in design and development areas, where the professionals enhance the page's performance and sitemaps.
Roles and Responsibilities of a Web Designer
There is still much confusion on the scope of the job, so we try to address it in detail in this section. The following tasks fall into the responsibilities of the professionals in this field.
1.      Engaging Landing Pages – UX UI Design
The job requires vast experience in landing page design that attracts visitors to stay on a website for longer intervals. It helps raise engagement and interaction with the website by employing enticing color schemes, the right fonts, and a likable interface. UI design uses tools and techniques to design intuitive pages while placing CTAs and contact tabs in prominent areas.
2.      Responsive Websites – UX Design
Experts equip the website with adequate visuals and simplistic sitemaps to create responsive web pages. It enables the users to navigate freely on the site for performing tasks or getting any information. Responsiveness means whatever they click processes quickly, taking less time while providing a smooth user experience and avoiding tensions.
3.      Performance Optimization – UX Design
Ensuring fast loading speed, fluent work processes, and robust performance is another job duty. It provides a cherishing user experience worth sharing with family and friends over social media. Shortly afterward, it brings more traffic to the site, requiring a solid performance to entertain more visitors. Standard UX design practices entail using optimal images, compressed media, and minimal complexity for optimization.
4.      Integrations – APIs and WebHooks
Besides an effective UI UX design, APIs and webhooks are central to the role of a professional. Integrations reduce the need to enter recurring details and personalize the user interface using custom design essentials. APIs perform the back-end procedures while webhooks send a message of any event, like clicks, bug warnings, or leads.
5.      Monitor and Control – Upgrades
A crucial element of design responsibilities comprises making essential improvements through upgrades and the latest versions. The responsible person monitors and informs management or site owners on any issues that require resolution. Sometimes, restoring a recent backup resolves the underlying issue or bug, while in some cases, modernization is compulsory.
Design Principles and Tips for Designing Websites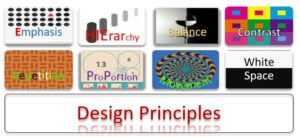 Although secondary, it is necessary to highlight design essentials, principles of design, and tips for designing websites. We will briefly describe some guidelines for anyone who takes on the challenge of creating a website. It is vital to embed the elements of design by focusing on the design principles while following best practices and standards.
Design Principles, Courtesy: Logo Design Valley
·         Emphasis
It is the most integral visual in the logo that highlights the most significant element that would grab attention. Mostly, it is the most influential and appealing element as it reflects the interests or preferences of prospects. Brands do extensive researches to find what motivates its audience and how they could make it easier to memorize. Emphasis makes that visual prominent by either using size, color, placement, or ratio.
Pro Tip: Include the most relevant visuals to the brand, then emphasize the most influential ones.
·         Hierarchy
Hierarchy is the second most relevant essential that guides the eyeballs' transition within the logo. It points out the next most important element and describes their order using the same parameters of size, color, placement, or ratio. Hierarchy also establishes the relations between elements by assigning them visible priority and transitioning impact.
Pro Tip: Use the impact of colors on emotions and employ the visual shades accordingly. Provide enough content to satiate the desire of visitors in steps, aligning with goals toward conversion.
·         Balance
Balance is another crucial factor that portrays the importance and influence of a component. If a graphic must stay in the center, corner, or sideways depends on its relevance and appeal. You must have seen logos with bevels and 3d perspectives that use balance to provide a viewpoint. Moreover, it controls the exposure of colors, text, and images by keeping them cohesive.
Pro Tip: Place CTAs in the content with the menu tab on one side and testimonials on the other. Use charts, tables, and images to convey meaning concisely, including the brand message.
·         Contrast
Contrast is the blending or utilization of all the colors, whether in the text, images, or shapes. The emotional meaning behind colors and their contrasts play a vital role in inducing certain thoughts. Contrast leverages from such meanings and satiates the visual longing by molding colors ideally. It also blends certain shades to induce some complex emotions to attract the target audience.
Pro Tip: Employ the audience-preferred visuals, blending them with brand visuals to grab their attention. Engage them with well-timed prompts containing the same contrasts for higher CTR.
·         Repetition
Patterns are everywhere, whether we can see them or not, and they repeat sometimes. Even in the most different of dimensions like human cells and cosmic universe, repetitions are imminent. Repetition defines any repeating pattern in a visual that is impactful and visible. It impacts upon the viewers' perceptions, consciously or unconsciously, to establish a reliable perceptual image.
Pro Tip: Random repetition performs better than a sequential one. Repeat the same patterns and styles for each table, image, and chart between the content.
·         Proportion
Setting the proportion of different design elements isn't always necessary, but it is useful. It portrays the importance and influence of each component on a viewer, by adjusting accordingly. Setting the size, width, and outlines helps in embedding the proportion of items with respect to their hierarchy. It enables the users to analyze a visual's importance with respect to other items.
Pro Tip: Set three sizes for every shape, object, and font and use them across the layout. Portray the specific components in each size and refer to their hierarchy and emphasis.
·         Movement
It might get confusing to add or trace movement in static logos, but we assure you there is. It is the transition of eyeballs from one component to other, whether you see an emblem or even a simple wordmark. How you scan a logo following its hierarchy, proportion, and balance regulates its movement. Some visuals also portray icons like speed trails, arrows, or lines for this purpose.
Pro Tip: Make each transition enticing and appealing, using creative ideas like replacing loading icons with animations. It will prevent annoyance and stress if your animating cursor stays playful.
·         White Space
White space is also called negative space, which can be used positively to provide buffer areas. It uses the design parameters with a certain space in between components to assist in transition. Logos with various elements have minimum white space while simplistic logos have ample of it. Using white space creatively adds charm in a brand symbol without much effort or extra features.
Pro Tip: The negative space is positive; use it to your leverage, as it is the most unique feature. Don't add anything; instead, beautify it creatively. Allow spectators to breathe 'fragrant air'.
7 Compelling Reasons to Trust an Expert Website Designer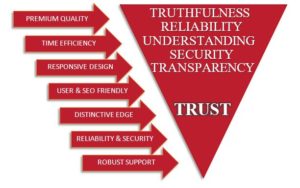 Online stores and websites are becoming common and driving whopping sales despite the adverse effects of COVID-19 and inflation. In fact, the most growing businesses during lockdown and afterward are online shopping platforms. Most small businesses either look for a cheap web designer or a local web designer due to budget and trust issues. Avoiding a web design agency not only compromises creative design but also lacks the principles of design necessary for growth.
User experience design is crucial to promise visitors a worthy shopping experience, increasing the chance of revisits. Yet, many entrepreneurs who can source an affordable web designer try to save small, ignoring ample opportunities. Moreover, trusting someone to access your online business platform is a risk, making it difficult to hire a website designer. Even those with a clear intent to hire website designer are looking for a cheap web designer instead of experts. Here are seven compelling reasons to trust an Expert website designer without exposure to any risk.
1.      Premium Quality Layouts
A professional website designer builds quality in his work as he has profound knowledge of a wide array of solutions. They have experience with projects on various platforms and custom website solutions. A high-quality design must fulfill its purpose while keeping hold of the interest of its visitors. It needs alignment of user intent with organizational goals, using different visual components like imagery, simplicity, and short video content.
Whether you need a local website designer or a freelance website designer, the reviews and ratings on listing platforms portray expertise. The same rating mechanisms on your website highlight the quality of products or services on your web pages. The digital design skills of experts will enhance the attraction and conversion of websites through quality graphics and workflows.
2.      Saves Your Valuable Time
Instead of an affordable website designer or cheap web designer, try finding an expert one from a website designer magazine. They would not only save you valuable time but also prevent you from future hassles by leveraging digital design practices. Most businesses struggle to revamp their poorly designed pages later when traffic increases and disruptions cost more. Instead of choosing a low quality and upgrading later, build proficiency now to avoid regretting it later.
Integrations, smooth workflows, and performance optimization are all necessary for a robust solution. By adding the latest tech stack to a website, experts allow you to attract more prospects, saving acquisition costs and conversion time. It's better to use time efficiently, bringing growth and networks that pay off well, rather than resolving website issues yourself. Will you ever take a day off from business to fix a leaking pipe? Or will you call a Plumbing Service to save time?
3.      Responsive Web Design
It is mandatory to evaluate responsive web design capabilities when using any medium to hire web designer. For instance, a dental website designer will provide integrations with mobile apps and other healthcare tools. There is no point in having integrations that won't work, forcing you to enter details manually in this digital era. It takes a high level of expertise to provide >responsive web design services like a web design company. The layout must adjust to the user's device, location, and liking to be responsive. Likewise, a WordPress web designer or Ecommerce website designer will use the best tools to enable easy and fast checkout systems on your online store.
4.      User and SEO Friendly Website
You may contact any web design company to hire a web designer with basic skills. However, the best web designer masters the skills to craft the layout of a user-centric and SEO-friendly website. It emphasizes simplifying everything from a user's perspective to provide them with ease. The process entails an intuitive menu and navigation plan with content placement in the right spots.
Users must find your content helpful in their respective queries, or otherwise, you will lose potential customers. It also requires a knack for Search Engine Optimization, which utilizes meta title tags and strong alt text for visuals. A small business website designer will help rank your site higher on search engines using >SEO techniques to drive traffic. Once you get visitors, the charm of a user-friendly interface engages them longer, encouraging them to transact with the brand.
5.      Distinctive Edge Over Competition
Setting apart a business from others in the industry is inevitable in the long run; the same goes for a website. A distinctive edge over competition might include a free complementary offering, value addition in product, excellent customer service, or technology. It could be anything that sets your business, brand, or offerings apart from the other rivals.
It is similar to the >unique selling point of a product, as it is a unique feature of your website. Web design companies leverage the latest tech stack to embed web stores with distinct features. For instance, an expert WordPress website designer or Squarespace web designer embeds distinct visuals and high-end features for an edge.
6.      Reliable and Secure Collaboration
A professional web designer will collaborate with you on the project to add necessary features and requirements. They will grasp your business objectives and build a supportive user journey, repaying the small business web designer hiring cost. Even the most expensive web designer services are cost-effective in the long run as they generate a higher return on design investments.
Experts ensure your goal attainment by incorporating essential features and sales funnels while delivering the project on time. Moreover, the professional work ethics of an expert guarantee the >security of your business details and information. They use data encryption mechanisms, non-disclosure agreements, and strong security policies to keep things confidential. So, you can trust reputable experts to design or redesign your business websites with reliability.
7.      Robust Support and Maintenance
Anybody can claim, "Graphic design is my passion", but it requires a vested interest to justify that. It means that a provider must share the worries and passions of clients for project success. An Ecommerce web designer must take responsibility for conversions and indemnity.
The relationship between a client and a provider stretches beyond project submission. It covers the probable issues a customer might face along the way to anticipate and mitigate risks proactively. Likewise, a blog layout must combine robust >support and maintenance to attain goals. It also helps improve your online front based on feedback, analytics, and security needs.

Where to Find a Website Designer for Hire?
Hiring the best web designer has never been easier than today, where we have numerous helpful sources. You can access an online graphic design listing, a website designer magazine, and other digital or social media platforms. Thus, we classify the options into three categories as follows.
Freelance Website Designer
There are dozens of freelance platforms where every designer claims, "Graphic design is my passion". You can use these to find a top-rated Shopify website designer, Squarespace website designer, or custom website designer for hire. Businesses apply hourly rate filters to find an affordable web designer, which mostly backfires. Many novices list jobs for puny hourly costs but spend more than the necessary time, wasting the most valuable resource.
Moreover, they invest little to no time in audience research to build sites with many issues. Hiring an expert seems costly, but it isn't, as they produce value for money through skills and experience. They save you time on networking and growth while the layout takes care of and keeps track of visitors. Check the client testimonials of freelancers to hire web designer.
Web design companies (dedicated ones) provide a wide range of solutions through their resources. They offer to handpick a web designer for hire, while others provide professional web designer services. You can apply filters to find a local website designer or search for a specific genre, like an Ecommerce web designer. An agency is a pool of many sorts and types of design engineers who understand the dynamics of each trade.
It assigns a Shopify website designer or Squarespace web designer to clients with platform-based needs. Likewise, you can hire a web designer for the real estate industry or a dental website designer for your business. An agency follows basic work ethics of delivery timelines, security standards, and best practices, complying with user guidelines. Compared to freelancers, it's better to consult an agency for a small business website designer or WordPress web designer.
An all-inclusive branding company is the best choice for your projects, especially startups. It offers various branding services and promotional layouts like logo design, business card design, flyer design, banner design, and more. You can request rebranding or hire a website designer of your choice per your aesthetic or business needs. A branding agency helps you deploy consistent branding and promotion strategies across all company assets and platforms.
You can find a Squarespace website designer, small business web designer, or WordPress website designer with assistance from marketing experts. They have a pool of different professionals that jointly work on deliverables, enhancing its appeal and influence. Usually, the best branding agencies have a global network of offices, which helps you get a local web designer easily. Brand growth relies on getting new clients while retaining existing ones, so a comprehensive approach is necessary. Consult the best branding company in your vicinity for an expert website designer.
Conclusion
Designing websites is more than placing content, adding colors, and choosing fonts to display. It is a process of adding value to a website to craft an amazing user journey while attaining business objectives. You must build trust by focusing on the seven compelling reasons to hire an expert for your online front. Trusting the wrong person might cost a few things, but misjudging a trustworthy companion indeed costs countless opportunities.
Finding a professional website designer is a task too easy, yet challenging if you want an expert website designer. We, as always, address your concerns, including the most basic ones, to give insights and assist your small businesses to flourish. Likewise, we extend a thoughtful exploration of different channels to hire website designer per your requirements. Choose wisely, whether you need an Ecommerce website designer or a branding expert, as it can alter a brand's destiny
Please visit Our Design Blog