Designing a logo seems easier but becomes challenging once you learn the fundamentals and principles of logo design. Hiring a branding company isn't affordable for a small business, let alone a humble startup. A logo maker or AI logo generator uses machine learning and generative AI capabilities to propose an initial layout. However, it lacks the necessary appeal and influence that a logo design agency could add to a brand symbol. Yet, if you want to refine and edit the layout, we appreciate it and offer guidance on how to make logos.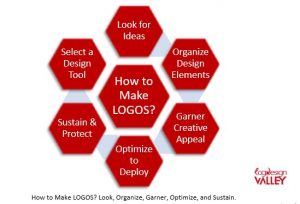 How to Make Logos?
The logo design process entails a detailed approach covering every step before or after the core design. It starts with researching the target audience and brainstorming logo design ideas. Next, we plan on the design essentials and elements of design necessary to include in the emblem. Further, we begin with the layout, focusing on design principles and unifying elements into a single visual. Testing and deployment is the next step in applying different methods to test the logo for improvements. Lastly, we formulate a support strategy with a branding guide to uplift its charisma and charm through promotion. You can make LOGOS as follows:
Look for Ideas & Insights – Research
Every transformation starts with a notion, whether a small business idea or a revolutionary one. Still, validate logo design ideas on the principles of logo design and graphic design. Try to make them simple, unique, relevant, memorable, versatile, timeless, and Influential. Research is necessary to identify the most relevant design elements to embed in the branding visual. It evaluates the target audience to find the mutual interests or links in the company and prospect goals. Also, outline the business objectives at this stage to align them with the audience.
Organize Design Elements – Plan
Now is the time to prepare the most relevant and appealing visuals and design essentials. Before moving on, you must determine all stakeholders and assign them relevant responsibilities. Preparing documents to outline the project scope if designing for a client is also advisable. Scan the industry and competition for similarities or resemblances in the elements of design you aim to use. Also, analyze the appeal and impact of each visual on the intended audience by different methods. Moreover, replace the ones that might cause confusion or offense to anyone.
Garner Creativity & Appeal – Design
Graphic design uses creativity in a manner that conforms with the science behind attraction and appeal. You must blend it with charm to unify the components to attain synergy with relevance. The collective impact of components should be greater than the sum of their individual impact. Consider the brands that use a combination of a logotype and logomark or ethos pathos logos. You might get an adequate understanding of the emotional effects and creative utilization of visual graphics. Enhance the layout by trying different iterations to compare and choose the best.
Optimize to Implement – Deploy
Testing a logo is necessary and inevitable, as later improvements would cost a fortune. It must pass through the basic methods of Gorilla, Strategic, or Extensive tests, besides mentor guidance and control groups. The layout needs optimization and refinement to eliminate issues. Implementation of the logo must cover all the organizations' documents, assets, and platforms. Consistent branding will portray a professional image while assuring standard premium quality everywhere. Your logo will leave a strong impression no matter where your audience finds you.
Sustain & Promote – Promote
Sustaining a brand symbol means maintaining its positioning and reinforcing brand awareness through marketing and promotion. Advertisements, activities, banners, flyers, and brochures must convey the same brand message in the appropriate tone, font, and color. Traditional and digital marketing go together to energize the symbol for desirable results. It includes email marketing, blogs, digital ads, on-page/off-page SEO, and content marketing. You may also start affiliate marketing and incentive-based referral programs to generate more leads.
The 11 Best Logo Makers and Generators for 2023
Let's explore the options to select the best free logo maker that allows sufficient editing and free download. To find a logo maker free online is one thing, but using it to your leverage is another, requiring many facilities. The following logo makers and generators are best for use in 2023.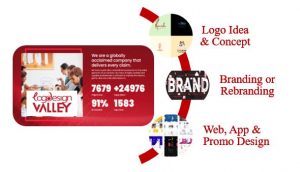 1.      Logo Design Valley
The leading logo design and branding company in the US offers an AI logo generator to create logo design ideas. Its website provides an initial concept for your brand icon, which you can download, edit, or use as design inspiration. You can request a refinement of your logo design or acquire a consistent web design, branding, and promotion material. It also assists in social media design to uplift the impact of branding and promotion strategies for your intended audience. Best logo designers and marketing professionals blend brand objectives with audience research to create a captivating brand symbol. Follow Logo Design Valley blogs for insights and guidance.
Famous platform Wix has an excellent online logo maker that is user-friendly and offers various editing and customization tools. Wix logo maker requires a signup and then asks for your specific layout and color choice. The platform also allows downloading high-resolution file types after a nominal fee, which is best for an affordable logo design. It also has a drag-and-drop environment for website design and offers affiliate websites for custom web design.
If you seek a cheap logo design, Canva logo maker starts at just $10, with a user-friendly interface. It delivers an insightful and responsive user experience using tutorials and 'how to do' videos. The platform proposes many templates you can edit and customize for font, color, images, contrast, and size. Its Pro plan unlocks access to more themes, while its Enterprise plan helps teams collaborate and contribute to a project.
The easy-to-use and highly customizable Adobe Express possesses AI capabilities and a high-end layout. It uses your business details to propose multiple options that you can select to download. The Premium package comprises advanced editing tools and more template choices. The basic pricing starts from $10, where you can download or convert the file types of your designs. Adobe Logo Maker is a worthwhile alternative for people searching for an affordable logo design.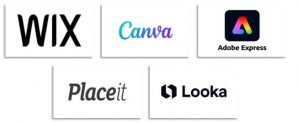 Although the single download cost is a bit higher at $39.95, the monthly package costs $7.47. The easy-to-use Placeit logo maker allows swift and seamless customization of AI-generated logo images. The free version only bids layout ideas and editing of colors, fonts, photos, and objects, while the download requires payment. The custom logo maker needs your business name and industry to generate various proposals to select from.
One of the AI-powered platforms is Looka Logo Maker, which generates templates and logo concepts. The custom logo maker has an intuitive interface that uses your preferred styling that you can edit or modify. Although the tools are limited, the optimum quality renders a professional logo design best for your business. Generating and editing ideas is free, but a $20 price applies at download, while $65 gets you a high resolution.
The freelance platform offers a company logo maker online, assuring a result in 5 minutes. Fiverr logo maker is a value-for-money tool for those looking for a cheap logo design for a small business or startup. Users can refine the design using the various tools available or hire a freelance logo designer from the platform. The Essentials plan costs around $30, while the Professional plan costs $60 with no other free download options.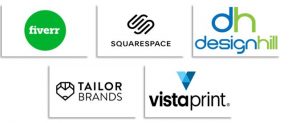 The best free logo maker, Squarespace, is user-friendly and requires zero technical knowledge. It employs an AI logo maker tool that offers a lower level of customization but a high-resolution PNG download. While most AI logo makers necessitate a payment, Squarespace is free. However, most AI-generated images do not cater to the audience's needs and preferences.
The online logo maker tool by Designhill comprises an intuitive design process that lets you modify design elements. It leverages AI technology to generate several possibilities that you can choose from. A $20 payment enables you to download the final layout, while the high-resolution vector graphics are for $65. The platform also facilitates you to hire a designer of your choice to enhance the appeal of your branding visuals.
The online platform TailorBrands uses smart art intelligence that is convenient for a small business logo maker. It asks users about the ideal style and font choice with a brief business description. The image library proposes a suitable combination with relevant results that you can download for free. Though the free visuals are low quality, a $10 payment could lend you high-quality brand visuals in vector format. It isn't a gaming logo maker, but it provides an initial idea.
The most comprehensive free logo maker is VistaPrint, which is user-centric, customizable, and free of charge. Its utilization stretches from a company logo maker to a gaming logo maker without much experience in design. You can read any blog on how to make logos to use VistaPrint as the best logo maker free online. A user only needs to understand the design essentials and elements of design to craft a visual that attracts an audience.
Conclusion
The creative design ability and understanding of design elements give you an edge when using any AI logo generator. You must study the basic design essentials and crucial elements of design before opting for a platform. Once you learn the fundamentals, select a suitable option from the 11 best logo makers and generators for 2023. Designing a logo isn't challenging today; however, researching your intended audience brings better results. Also, study the types of logos and their emotional appeal and follow our blogs for more insights or guidance. Hire a logo design agency or branding company that understands your audience and business objectives.
Please visit Our Design Blog