Logos are diverse in design, appeal, colors, and font styles to comply with the brand identity and cater to the audience's preferences. Some common types include the 7 types of logo designs and ethos pathos logos according to their appeal. There is one more approach that differentiates between a modern logo, a classic vintage logo, and a minimalist logo. Before we proceed to the list of the best vintage font logo, let's understand what describes a vintage style logo.
What is Vintage Style Logo?
Vintage, Retro, or Classic Style logos are inspired by the styles of the 19th century, especially the last four decades. A dull color palette of lesser colors with a typeface resembling handwritten fonts makes a perfect vintage style logo. It often uses a sketch design with some texture fill.
What are the Characteristics of a Vintage Logo?
There are three main characteristics of a vintage logo; font, color, and design. Let's discuss them.
1.      Retro Fonts
Vintage logos have a soft or heavy-weight font with textured or ornamental hues, using design inspiration from retro 70s fonts, retro 80s fonts, or other eras. A few of these are WT Bradford, Rocket Clouds, and Streetwear typefaces. Cursive font with extended nodes denotes a retro font by imitating an era's handwriting. Font styles resembling neon signs also classify as vintage fonts.
2.      Classic Colors
The most common classic colors are black and white, while some are brown, grey, beige, and other dull shades. Tans, mutes, dusty, and grainy tints are common in vintage or retro logos. Pastel and Scandinavian shades can do the job while adding a pale or faded texture fill. You may look through old movie logos, design documentaries, and newspapers to find the best fit.
3.      Vintage Designs
A vintage design includes objects, images, and the aura of the good old days, whether the Old West or Pop culture. Use visuals that remind the viewers of the fashion or lifestyle of the past decades, including the earliest video games. Hand-drawn sketches, imperfect finishes, excessive details, rough textures, and classic ornaments define a vintage style. Add the most appealing design items that tap into your audience's childhood memories to induce a feeling of familiarity.
Top 15 Vintage Style Fonts
Although other factors besides font impact the logo's vintage appearance, fonts play a vital role. You can download free retro fonts to use in your design endeavors. Moreover, the 15 best vintage font logo designs will help you create a classic vintage logo, branding, and promotion design. The following font styles are most effective for a retro logo or vintage logo.
1.      Oldways
The old Western typography is terrific, but merging it with modern shadows makes it more fabulous. It is available in regular and italic typefaces, which you can use in vintage style branding.

2.      WT Bradford
The typeface by Laurenz Brunner is an all-time sensation with 3 fonts; serif, script, and sans serif. It offers 9 styles that are a perfect classic fit for your logo, brand name, slogan, and promotions.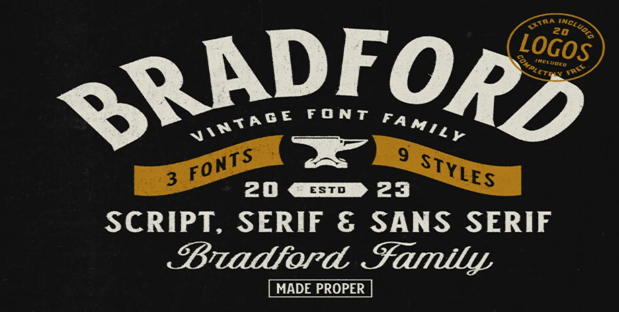 3.      Rocket Clouds
Taking inspiration from the retro 80s fonts and neon light signs, it highlights your brand colors with a bright shine. The font employs round calligraphy with underlines for more prominence.

4.      Streetwear
The bold and classy style from retro 70s fonts beatifies many Streetwear outfits and Streetwear hoodies. It perfectly blends the brand name with its story, as in apparel and university logos.

5.      Rumble Brave
The vintage classic font wonderfully blends font styling with retro vibes. The typeface has three variations of script, serif, and dingbat fonts, giving your brand a Victorian era feel of elegance.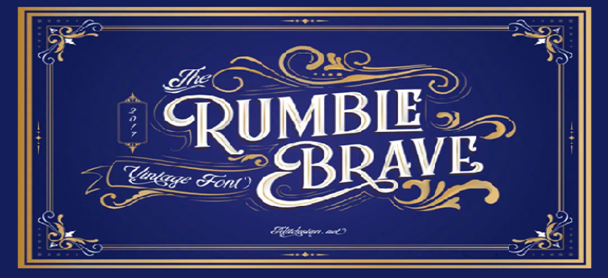 6.      Whiskey Font Collection
The Whiskey font collection has two fonts, offering three styles for rough, regular, and aged looks. The wheat and barley type combination is best for logo designs, banners, and promos.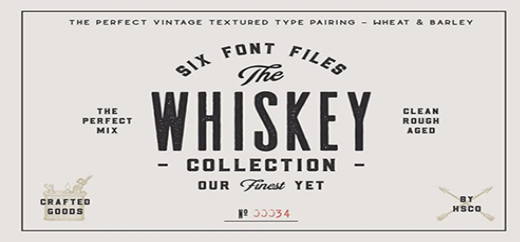 7.      Troyline Sans
The Troyline Sans is an elegant choice for your logotype and web design needs. Its organic script version is another great option for coffee shops, restaurants, and trucking company logos.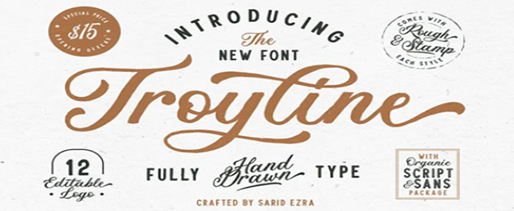 8.      Victorian Fonts Collection
Another option among classic sans serif fonts is the Victorian fonts collection for rich history brands. The group holds numerous typefaces and styles from the decorative fonts of the 1800s.

9.      Bignord Typeface
The Bignord Typeface is one of the best classic fonts, with 5 styles in some letters to use as initials. It offers unique frames, lines, and layouts with regular, ornament, and regular-ornament fonts.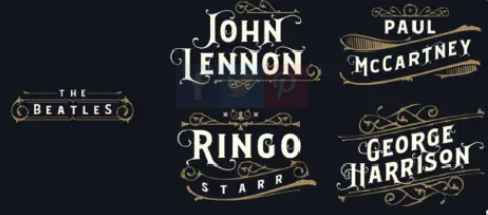 10.  Requila Font
The beauty and stylistic appeal of the Requila Serif font are exceptional and impactful. Among the retro style fonts, it has an exquisite look that is best for branding, business cards, and events.

11.  Mythshire Vintage Script
The Mythsire Vintage Script is one of the top retro style fonts with cursive handwriting and ink marks. Everything from the fading lines to the extended nodes makes it elegant and distinctive.

12.  Zailander
One of the ideal vintage sign fonts is Zailander, which adds impact and quality to a brand logo. It surpasses all the classic fonts when designing movie posters, TV show logos, and promo banners.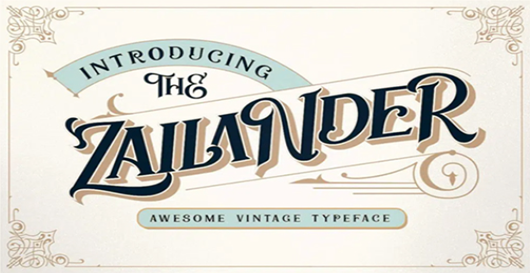 13.  Palm Canyon Drive
Sourcing inspirations from 1940s California, Palm Canyon Drive is a monoline script font best for Hollywood movie posters, diners, and matchbook covers with six designs of vintage sign fonts.

14.  Alpharush Retro Video Game Font
Alpharush is the perfect retro video game font choice for gaming brands and apps logo. The cool typeface brings back the nostalgic memories of the earliest video games to engage game lovers.

15.  Proto Mono Font
The retro computer fonts like Proto Mono connect with the viewer's emotions by imitating the tech boom era style. Its electronic design is best for logos, packaging, videos, tags, and labels.

Conclusion
Logo fonts are vital in attracting the audience and conveying the brand's image and message. Classic retro logos are influential, appealing, and memorable as they easily relate to our memories and emotions. Whether you are looking for retro computer fonts or classic sans serif fonts, this blog ends your quest. The best vintage font logo options will enhance your branding and promotions, engaging your audience effectively. Hire the best logo design company that understands your audience and branding needs to create a classic retro logo with vintage fonts.
Please visit Our Design Blog