Sometimes the small changes contribute to a big impact, such as the rebranding story of the Sixt Rent a Car. The Car Rental industry is no different than others, including some big names and inspiring startup stories. We will review the US rental car industry with all the big players, including the Sixt rental car empire. We will also discuss the rebranding and revamp of Sixt SE, including the evolution of the Sixt logo. Let's begin with the industry analysis.
The US Car Rental Industry
The US Rent a Car industry is booming, with immense opportunities for startups and enterprises. Although the big three groups mostly own the majority shares, stories like Sixt and Enterprise rental car inspire many. The industry will reach a record-breaking revenue of around $30 billion in 2023, according to Statista. However, there are a few players that we would like to highlight for your reference. Let's discuss first the big three, who own a total of over 95% market share.
The Gigantic Network
The US rent a car industry is mostly owned by three giant groups that we will discuss here. The groups are owned by different parent companies or shareholders, including founders' families. Let's review the groups that enjoy 95% revenues, enabling millions of citizens to profit from their relative investments.
The biggest competitor in the industry, Hertz Global Holdings, is the largest according to revenue, fleet, and market share. The company owns famous brands like Hertz Rent a Car, Dollar Rental Car, Firefly Car Rental, and Thrifty Car Rental. It claims a 36% market share through operations spread in over 160 countries, marking its leadership after facing numerous challenges. John Hertz purchased Rent a Car Inc. from Walter L. Jacobs in 1923, who founded it five years earlier.
John sold the brand to General Motors and repurchased it after 27 years in 1953, buying back its franchises later. Hertz got sold out four times, finally reaching under Clayton, Dubilier, and Merill consortium while expanding to Europe and China. It bought the Dollar Thrifty Automotive Group in 2012, acquiring Thrifty Car Rental and Dollar Rental Car ownership. The company returned from the brink of bankruptcy in 2021 due to the COVID-19 pandemic and subsequent lockdowns.
Jack C. Taylor started a car leasing business in 1957 with seven cars in St. Louis, Missouri. It later changed its business model to car rentals focusing specifically on superb customer service. Warren Buffet tells Jack Taylor's inspiring story who once rejected an offer from an investment tycoon. The company began to grow rapidly, acquiring competitors like National and Alamo, laying the foundation of Enterprise Holdings LLC. It currently holds a 33% market share.
Enterprise Rental Car, to this day, remains a sister concern of National and Alamo under its parent company Enterprise Holdings. The company has the second largest network of around 9500 car rental locations in over 100 countries. It has numerous airport offices like Enterprise Rent a Car Atlanta airport and home city offices like Enterprise Rent a Car Las Vegas.
The Avis Budget Group is the third largest car rental holding company, owning Avis Car Rental and Budget Rent a Car. It owns other agencies like Payless Car Rental, Zipcar, Apex Car Rental, and TurisCar. With a 26% market share, the group's commitment to excellence via continuous innovation has been a core value. Avis Car Rental was founded by Warren Avis in 1946, while Budget Rent a Car was founded in 1958 by Morris Mirkin. The group, previously known as Cendant Corporation, later split into four groups based on relevant industries.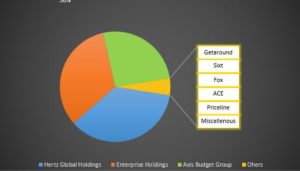 Other Players in the Industry
Although the 5% market share is relevantly small, it holds value to competitors as it accounts for $1.5 billion. Moreover, every business entity holds immense value for its consumers, whether due to a personal connection or unique needs. Besides indigenous rental businesses, the following three competitors are famous and reputable.
Getaround Car Rental
The model of Getaround car rental is of car sharing and ride-sharing services, besides rental cars. Founded by Sam Zaid in 2009, it later raised funds for growth, finally going public in 2022.
Fox Car Rental
Fox Car Rental was founded in 1989 by three cofounders and kept opening many airport offices. Its competitive pricing and affiliate program took it global before its acquisition in 2019 by Europcar Mobility Group.
Ace Car Rental
Ace Car Rental is a leading network of independent operators with 300 locations in 45 countries. It was founded by Robert Sorensen in 1986 and kept growing under his nephew's control later.
Priceline Car Rental
Priceline car rental is a service of Priceline.com which was started in 1997 by Jay S. Walker. The online travel agency offers hotels, airline tickets, and mobility solutions in over 200 countries. Booking Holdings, the owning company of Kayak.com and Booking.com, currently own it.

The reason we are discussing Sixt Rental Car individually is mainly due to its recent rebranding, which caused a stir. Its new logo is getting due publicity because of the new design and its strive for share. The small changes, big impact of its PR efforts, advertisements, alliances, and campaigns are already making waves in the industry.
Sixt History and Origin
Founded way back in 1912 by Martin Sixt in Bavaria, with three cars repeatedly confiscated by German Army until 1951. Its radio taxi service in Munich was started, bringing customers and adding growth to the German company. In 2011, the first US office opened in Florida, laying the foundation of Sixt SE, providing many mobility services. It also offered leasing services besides rental, car sharing, and ride-hailing from the Sixt Leasing SE subsidiary.
Later selling out the leasing subsidiary, the focus shifted to mobility, and it bought ten airport offices in the US from Advantage. Its joint venture with Lyft and BMW enabled its growth in the US before it opted for operations in Australia. The partnership with NRMA (owner of Thrifty, Australia) fueled its expansion, bringing over 16.000 vehicles and 160 branches.
Who Owns Sixt Car Rental?
The majority of shares are held by the Sixt family, while the remaining shares are available on the exchange for trading. Sixt SE is the parent company of the Sixt Group, which offers various mobility services. Erich Sixt took over the company from his father in 1967, moving to the supervisory board after 50 years. His children, Alexander and Konstantin, are running it now.
Rebranding of Sixt Rent a Car
The company has around 270,000 vehicles and 2200 facilities in over 100 countries, making it the largest in Europe. However, it had the goals of a prominent brand (including locations), a unified digital platform, and swift responsiveness. The new ambitions set forth the requirement of a rebranding for a distinct image and influential positioning. It wasn't easy to boost visibility among the American Big Three car rental giants and other rivals. Nonetheless, aggressive marketing through advertisements, campaigns, and alliances made a big impact.
Advertisements
The advertisements start with a usual tone but highlight the boring aspects of the rental industry. It negates the idea of using 'a' to define everything which you look for, proposing using 'the.' Negating the norms and traditional practices has a profound impact on marketing. Its first small change in the industry ads made a big impact through the slogan 'Rent The Car.'
Campaigns
The outdoor and social media campaigns will highlight its 'Rent The Car' slogan, emphasizing its distinct service. Featuring BMW vehicles as a crucial partner led the brand to desirable growth across the US. The campaign, designed by Gut Miami, aims to excite customers by promising a premium experience and distinctive value. It will soon add electric vehicles to its fleet.
Alliances
The Sixt partners include airlines, hotels, app platforms, and OEM partners like BMW and BYD to leverage the growth. Hailing from the same country as Sixt, BMW cars make up almost half of the fleet. It is the first rental company to offer BYD automobiles in Europe. The partnership with Lyft and NRMA aims for further growth in US and Australia, respectively.
Sixt Customer Service
As per clients, the most influential part of the rebranding is Sixt customer service which sets the brand apart. Instead of cabins, they have separate rooms at airports, with consistent branding and a refreshing ambiance. Moreover, you don't need to wait for the employees to process your request and pass the keys. The cherishing reviews depict its outstanding customer service. Its app integrates with numerous social media platforms to swiftly process and respond to reviews.
Sixt Rent a Car Logo Evolution
Similar to the small changes in its campaigns and services, the company also changed its logo. The new logo is shining on locations like Sixt Miami Airport and Sixt car rental Puerto Rico. Let's evaluate its logo evolution for design inspiration and the concept
empowering its global business growth.

The logo combines a wordmark and a pictorial mark, where the brand name is written with a unique mark. The curve over the i and x resembles a quarter tire or road section, highlighting mobility. Upon close inspection, we see that the x and t merger is another design iteration for a distinction. The new logo aligns the left slope of X, which was non-geometric before.
The Sixt logo font is a custom Sans Sixt font with a bold but thinner weight than the old logo. Its letters also are a little distant from the older logo, in which the letters were closer. The capital letter S uses a curvy, less sloped style, followed by a small i. The letter X and T are also capitalized but only joined at the top, unlike the older version, joining at the bottom too.
The curve over the name uses a more saturated and brighter gold color than the previous logo, with lesser width. The fonts have a back color, contrasting with the curve to make it prominent. The yellow and black color in many countries is famous for Taxi colors, like USA. It is notable that the company uses generic industry colors to maintain relevance and appeal. The shades and RGB codes are Princeton Orange (#F4811E) and Black (#000000).
Conclusion
The Sixt logo and rebranding are a perfect example of how small changes can make a big impact in any industry. What really matters in branding and promotion is prominence, distinctiveness, and influence. It is not easy to capture the share of the giant network of the big three players in the industry. However, nothing is stopping this brand from growing with this kind of branding and marketing. With excellent customer service, it is winning hearts and forging a new path for businesses to learn and adopt excellence. Contact the best branding agency for your logo design, branding, and promotion design needs for business growth.
Please visit Our Design Blog